79

File Size and Storage Limits
This chapter will cover the different file upload limits you will encounter while using Pressbooks, as well as overall storage limits.
Upload Limits
There is a limit to the size of files you can upload to Pressbooks. This is the case when you import your book from a Word document or other formats, each time you add an image to your Media Library, when you add an ebook cover under Book Info, and when uploading an image into our cover generator.
Importing Your Book
For most users, we recommend that you copy and paste your work into Pressbooks. If you have a properly prepared manuscript in Word, or one of the other formats that we support, you can also import it by going to Tools (on the left menu of your Dashboard) → Import. Once on this screen, you will see a warning about the maximum file size upload, which is 10 MB (which may be higher than your overall storage limit if you are on the free plan). If your file is bigger than this (or if your overall storage has run out), you will see an error message if you try to upload it. To get around this, you have two options:
Break your manuscript into two or more files and upload each separately
Copy and paste all or part of your manuscript into Pressbooks
Adding to Media Library
As you complete your book, you can add images and other media. This can either be done from within the chapter editor or by uploading to the Media Library, found on the left-hand menu of the Dashboard.
Either way, there is a 10 MB upload limit on each file you upload (which may be higher than your overall limit if you have not upgraded). However, we recommend sizing your images down with photo editing software before uploading. This is because images this large can add up quickly and eat up your overall storage limit in Pressbooks. In addition, they contribute to the overall size of your book, and ebookstores charge a digital delivery fee that will cut into your royalties if it is large.
See our blog for advice on how to resize your images and more information on image sizes in ebooks.
Ebook Covers
All ebooks need a cover, both for display in an online retailer, and to show at the start of the ebook itself. While the display cover will need to be uploaded to a retailer separately, you can and should also add it to your ebook file by uploading it under Book Info, found on the left hand menu of the Dashboard.
There is a 2 MB limit on the file you can upload, and this also contributes to your overall storage limit in Pressbooks. This is to keep the size of your ebook manageable, and to help you avoid the extra fees for large ebook files that some retailers charge.
Cover Generator
If you have upgraded to our PDF+EBOOK Pro package, you can use our cover generator, which is included in this plan. This is located under the Export menu on the left of your screen. Within this tool you are able to upload an image to use as a background image for the covers you create with the generator. Like the images in your Media Library, this can be up to 10 MB in size and contributes to your overall storage limit.
Storage
If you're not able to upload a file that is under the maximum file sizes detailed above, you might have run out of storage space for your book. Each book in Pressbooks has a limit:
If you're a free user, you have 5 MB of storage.
If you're an EBOOK Pro user, you have 25 MB.
If you're a PDF + EBOOK Pro user, you have 250 MB.
To check how much of your storage quote you're using, go to your Dashboard, and scroll to the end of the page, where you will see a box that looks like this: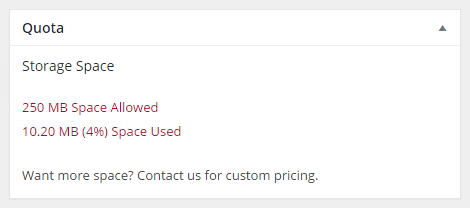 If you've run out of storage, try these steps:
Check your Media Library and delete any images that you're not using.
Check the size of the images you've kept and see if any could be made smaller (for more information on image resizing, see this blog post).
Consider upgrading to a Pro package, if you haven't already.